Climb the Statuses
For every Money Play ring game, tournament and casino game you play at Dover Downs Hotel & Casino Online Poker, you earn Status Points and Reward Points.
Our rewards program has 8 statuses that you can achieve at any time of the month. The amount of Status Points you accumulate determines your status in the rewards program. The more Status Points you earn, the closer you are to moving to the next status. Moving up can happen on any day of the month and your new status is yours to keep until the end of the next calendar month. For example, if you move up to Status 2 on May 15, your status remains the same until June 30.
Reward Points are payback for your loyalty to Dover Downs Hotel & Casino Online Poker and there's an endless variety of cool things you can do with them. The best thing about these valuable points is that they carry over every month so you can use them whenever you want.
Each time you collect Status Points for playing at ring games or tournaments at Dover Downs Hotel & Casino Online Poker we give back by awarding you Reward Points
| | |
| --- | --- |
| Status | Status Points threshold |
| 1 | 0 |
| 2 | 10 |
| 3 | 25 |
| 4 | 50 |
| 5 | 100 |
| 6 | 500 |
| 7 | 1,500 |
| 8 | 4,500 |
A progress bar with your most up-to-date Status Points total is displayed at every poker table.

My Rewards Page
You can also check your Status Points and Reward Points at any time on the 'My Rewards' page - your personal online Rewards space. Just click on 'My Rewards' in the 'My Profile' tab to get there.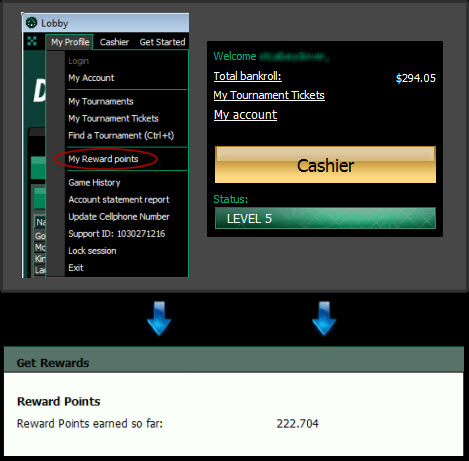 Monthly Status Overview: On the 1st of each month, the progress bar is reset to 0 and accumulation starts again.
Don't forget, even when your Status Point progress bar is reset, your Reward Points remain and carry over to the next month.